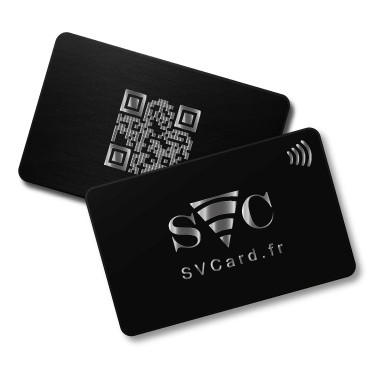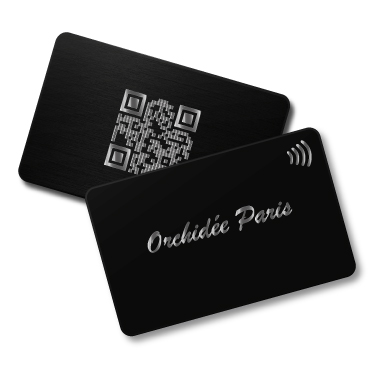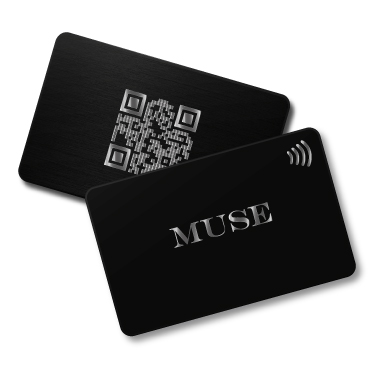 Transfer your information in one step:
A trade show? A link to the URL of your choice

An event? An Instagram page

A new product? A video on youtube

Your profil? Linkedin
Or, of course, for the daily newspaper your business card with the information you want:
Photo, Name, First name, Address, Phone, Position, Mail, Twitter, etc….
Thanks to the SVCard, be more visible, develop your presence on social networks and share your links with your prospects and customers in one click!
Your SVCard in Hybrid Metal is a customizable card!
We can customize your SVCard in Hybrid Metal to your image, it will faithfully respect your graphic chart.
The SVCard in Hybrid Metal can be customized:
The front side can be printed in Silver
The printing on the back is in Laser engraving (rendering is in Silver)
Before printing your SVCard in Metal, you will receive a print order to validate the printing.
Simply send us your logo or your graphic design.
Customize your standard SVCard
As soon as you receive your SVCard in Hybrid Metal, you have the possibility to completely customize your contact form online.
You will have access to a secure area to log in to manage your SVCard in Hybrid Metal.
No limit in the modifications, you can change all the information as you like.
Very easy to use
A simple gesture to exchange your data
No need for an application, the Svcard works with 99% of smartphones.
The Svcard is used in two ways.
Either by NFC or/and QR code technology.
NFC technology
Approach your SVCard to your contact's mobile.
Your contact opens the notification.
That's it, your data is transmitted!
By the QR code
Your contact person scans the QR code on the back of your Svcard.
Your contact opens the notification.
That's it, your data is transmitted!
If you need more information our FAQ section is at your disposal or you can also contact us at +33 1 41 16 39 60 or via contact us.
♦ Creating your information to be transmitted through the secure user interface.
♦ Update your data without limit through the secure user interface.
♦ S hare your data without limits and take full advantage of contactless technology.